Since the previous PCR didn't amplify anything using four different universal 16s (prokaryote) primers, I am testing to verify that the two extractions (QIAamp Fast DNA Stool Mini Kit & the DNeasy Kit; Qiagen) actually isolated any amplifiable DNA using universal 18s (eukaryote) primers.
First, quantified the samples to verify that DNA actually exists in these two samples:
20150128_CgigasOA_BSlibrraryQuants_OluridaLibraryQuants
| | |
| --- | --- |
| Sample | Concentration (ng/uL) |
| Clam DNeasy Kit | 4.432 |
| Clam Stool Kit | 6.184 |
The yields are surprisingly low, particularly for the DNeasy Kit sample.  In a total elution volume of 200uL, that means I only extracted 800ng…
Due to low DNA concentrations, I used 10uL of each sample in the PCRs.
Master mix calcs are here: 20150129 – cPCR Clam Universal 18s
Samples were run in duplicate.
Cycling params:
1 cycle of 10mins
40 cycles of:
95C – 15s
50C – 15s
72C – 2mins
Results: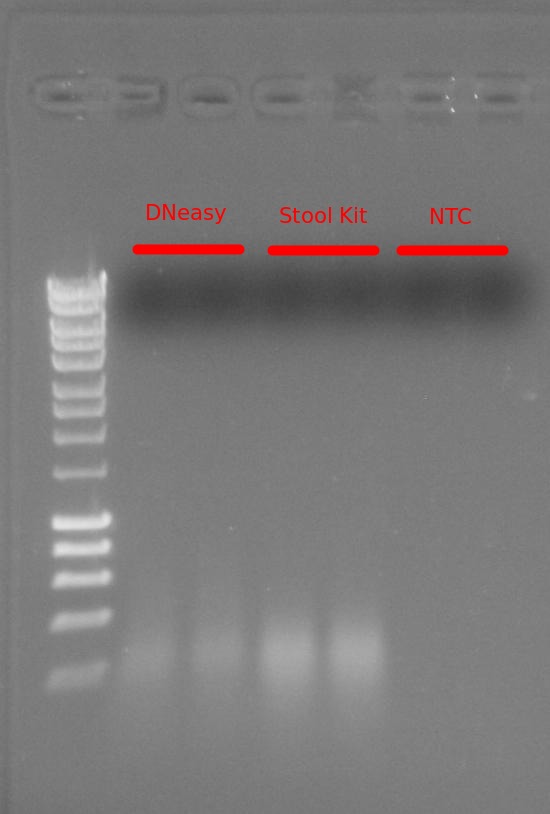 Ladder used was Hyperladder I (Bioline).
Neither sample produced any amplification.  The blurry "bands" that correspond to ~100bp are likely RNA carryover from the DNA isolation procedure.  They are not the amplicon we are looking for.  Additionally, they are not primer dimers, as these "bands" do not appear in the NTC.
I believe there is a small quantity of tissue debris in the original EtOH sample tube.  I will attempt to isolate some DNA from this debris and will repeat both the 16s and 18s PCRs.